Retention Anchors: Capitalizing on the Now
Applying Just-in-Time Learning
Have you heard of the Just-in-Time learning model? This model gives your students bite-sized lessons they can immediately apply in class and life. By teaching in smaller pieces, you're helping your students retain their newfound knowledge, see immediate results from their hard work, and continue returning to class to reach their goals. How do you apply Just-in-Time learning in your classroom? Join us for the second webinar in our Retention Anchors Series to discover how to use this effective method and improve student retention.
DATE: Tuesday, April 18, 2023
TIME: 3:30pm ET / 12:30pm PT
DURATION: 1 hour
SPEAKERS: Dan Griffith and Jen Denton
Don't Miss a Thing!
Join our mailing list to stay up-to-date on the latest professional development sessions.
Retention Anchors: Knowing Your Audience
Learn the characteristics of each adult student demographic and how they affect student retention.
5 Ways to Move From Examples to Exemplary
Learn to make in-class examples exemplary to meet your adult learners' needs.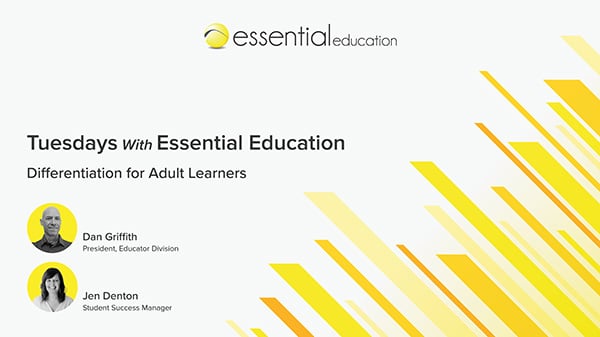 Differentiation for Adult Learners
Learn research, strategies, and assessments to provide effective differentiation for adult learners.